Aug 22 2021 Predestination or Free Will? Yes!
22nd August 2021
Lord Jesus, we give you our lives. We sing – All to Jesus, I Surrender – and we can only sing that by faith – faith that You live inside of us – because only You can give grace and power. Thank You for this time of worship.
Good morning! Today is going to be an interesting sermon. We're going to start in Ephesians 2
Ephesians 2:12-14 12 remember that you were at that time separate from Christ, excluded from the people of Israel, and strangers to the covenants of the promise, having no hope and without God in the world. 13 But now in Christ Jesus you who previously were far away have been brought near by the blood of Christ. 14 For He Himself is our peace, who made both groups into one and broke down the barrier of the dividing wall
There are two themes that run through the letter to the Ephesians – Christ's victory over the powers of evil – and unity in the Church. Both of these can only be accomplished through the death and resurrection of Jesus.
The desired unity – at that time, was among Jews and Gentiles – as we look at this full book – keep these things in mind!
The interesting part of today – we will talk about Free Will and Predestination.
At Men's time this week, we talked about this and we all completely agreed! That was a joke. Christians hardly ever agree on this topic! This verse came to mind after the time – I wish I had thought of it then:
2 Peter 3:15 Paul also wrote you with the wisdom that God gave him. 16 He writes the same way in all his letters, speaking in them of these matters. His letters contain some things that are hard to understand, which ignorant and unstable people distort, as they do the other Scriptures, to their own destruction.
Even Peter says, I don't get this guy sometimes!
So as we look at this subject, briefly, not covering the entirety of Christian History on this one – we need to look at it with humility. It has been argued throughout history and we won't resolve those arguments and debates.
"Some Christians treat passages that speak of God's work in Predestination and Election in a static manner – they envision God in eternity past choosing certain people from the massive pool of humanity to receive salvation – and choosing certain others (or perhaps allowing them) to endure eternal destruction."
This statement is difficult to hear.
"We are then stuck with the problem of a supposedly all-loving God choosing to send some people to eternal damnation while others for no apparent reason enjoy eternal life."
He also says this:
"The thrust of the predestination talk in Ephesians then has to do in shaping the identity of the people of God."
We will look at Ephesians 1 – and this will set our discussion – shaping our identity – forming the Christian identity – and it relates to Election and Predestination.
What is important to understand – Paul is coming from a certain perspective – Paul's!
Paul lived 1500 years before Calvin. No one had heard of Calvinism when Paul was alive! We can't think that way – we have to think Paul's way as we enter into this discussion and read these passages.
There are words here that are so important.
3 Blessed is the God and Father of our Lord Jesus Christ, who has blessed us with every spiritual blessing in the heavenly realms in Christ. 4 For he chose us in Christ before the foundation of the world that we may be holy and unblemished in his sight in love.
Here are the words – the first – BLESSED – three times in verse 3! That is word 1.
The second is CHOSEN – a key word in where Paul is going with this.
And the final words – "In Christ"
Chosen = Election
A person's identity is shaped by a story. Let me give you a negative example of this. If a family has a history of alcoholism, that will have a profound impact on the identity of a person within that family. People will break out of that, of course, but it will shape them.
A positive example: If a family has a strong Christian heritage, that will form and shape an identity.
Paul is telling a story to shape the identity of Christians. It is THEIR story – the story of God – and he will use these specific words – and one more – to shape us.
PREDESTINE
5 He did this by predestining us to adoption as his sons through Jesus Christ, according to the pleasure of his will– 6 to the praise of the glory of his grace that he has freely bestowed on us in his dearly loved Son.
IN CHRIST
IN these three verses, there are four times where Paul says "In Christ" – this frames the discussion of predestination and/or free will.
In the debate – Every Christian believes in predestination – it is in the Bible! Three times it is used.
Every Christian believes in Free Will! All Christians believe in Election!
The problem is – they have very different definitions of what these words mean!
Did God choose some for no apparent reason? You're going to heaven – and you're going to hell?
And I'm going to suggest – there are many differences of opinions – and you may disagree with everything I say – but I am going to suggest that Paul is not asking nor answering those questions – He is talking about things entirely different.
Paul's understanding comes from the Old Testament. He is not inventing a Christian theology; He is taking the Old Testament and applying it to Christianity
Tim Mackie gives us this diagram – and it reflects my perspective – how I was introduced to Christianity – It wasn't exactly like this, but it was similar. This presentation goes something like this – and this story has shaped most of our identity as Christians. The presentation starts with God – Usually – God loves us. And then to us – we have a problem – that problem is sin – and that has caused a separation between us and God – and if nothing is done, we go to the 'bad place' – called Hell.
Then you bring in the cross – for effect!
Election and Predestination:

God brings in the cross so we can go to heaven.
The purpose of this presentation is to bring a person to a decision point where they accept Jesus – and this has had a tremendous impact in bringing people to Christ.
The plan of salvation then became the 4 spiritual laws, 5 spiritual absolutes, the bridge diagram – probably not the presentation that is most used today. It is not the full story, but it is enough to present a story to get a person to come to Christ. This is not Paul's presentation either. It is okay – He lived in a different time.
The problem with predestination and election – we plug it into this story – and you come to this – some are predestined for heaven and some are predestined for hell.
The next diagram is probably closer to Paul's story:
Chosen by God: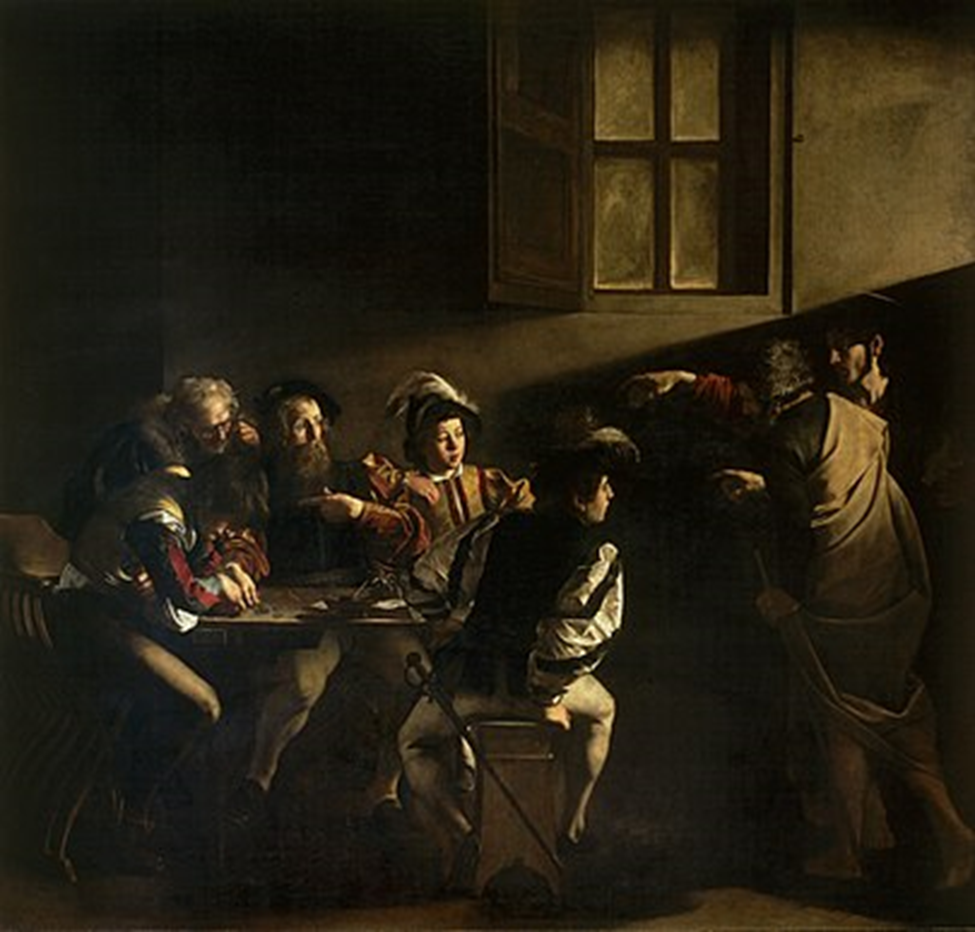 He starts with Creation – Humanity – Adam and Eve created in God's image – He blessed them! This is how Paul gets Ephesians 1:3! This is the story that is building that. In Genesis 3, we have the Fall – this evil spiritual being deceiving the humans – and Paul's story of Jesus having victory over the spiritual powers of evil – this comes from here – and we have judgment, separation, and a promise.
Adam and Eve will have a descendant who destroys the power of darkness. But looking at the direct descendants of Adam and Eve, they don't do so well.
Then there are two great rebellions of history – a huge flood and a global scattering are the results – and then God chose Abraham and Sarah – one family –
Genesis 12:2
And I will make you a great nation, And I will bless you, And make your name great; And so you shall be a blessing; And I will bless those who bless you, And the one who curses you I will curse. And in you (in Christ, in you) all the families of the earth will be blessed."
So Paul is building Ephesians 1 from the story of Israel, the story of God.
Were all the nations blessed because of Abraham? Not that many.
What about Abraham's descendants – some good, some not so good – but then there is the Messiah, and all the nations are blessed. It is through Christ and in Christ that the two themes of Ephesians are fulfilled.
There is defeat of the powers of darkness – and There is unity - Everyone is blessed by Christ.
Tim Mackie: "Biblical Election: God chooses one out of the many so that through the one, he can restore his blessing back to the many."
Paul understands election and predestination to be all about Jesus the Messiah. He is not talking about who is saved and who is not. He is speaking about the Messiah – Jesus is the elect one. Jesus is the predestined one. It is in Him we are given the blessing. Abraham is chosen to be a blessing – and when we are in Jesus, we are blessed to be a blessing. So, all of a sudden, our identity as Christians – we are part of this story of Abraham and the Messiah – blessed with every spiritual blessing for a purpose – that we might be a blessing to everyone – and I would suggest that that is a lot more positive, encouraging, worthwhile thing – and a way to view all of this – to be predestined and chosen in Christ is for this purpose, and that ought to be our total focus as we think about this.
For Paul, you are not predestined to be in Christ – but IN CHRIST, you were predestined to be adopted as sons. There is a huge difference between those two statements .
Next week we will look at the blessings of Christ – but in the meantime, I will read 11 verses – 3 through 13 – one sentence – saying In Christ eleven times.
Ephesians 1:7 7 In him we have redemption through his blood, the forgiveness of our trespasses, according to the riches of his grace 8 that he lavished on us in all wisdom and insight.
9 He did this when he revealed to us the secret of his will, according to his good pleasure that he set forth in Christ, 10 toward the administration of the fullness of the times, to head up all things in Christ– the things in heaven and the things on earth.
also we have obtained an inheritance,
(something unique is going on here – Alan mentioned it in the Men's' group – He uses the word US/We -
having been predestined according to His purpose who works all things after the counsel of His will, to the end that we who were the first to hope in Christ would be to the praise of His glory.
Some believe he is speaking of the Jews who have become Christians – others believe – just the apostles and prophets –
And here comes the switch – from us and we – to YOU (You all) and it is clear he is speaking to the Gentiles:
In Him, you also, after listening to the message of truth, the gospel of your salvation-- having also believed, you were sealed in Him with the Holy Spirit of promise,
How does all this happen? How do you get "In Christ" – when you hear the gospel, and you believe, you are sealed with the Spirit and You are 'In Christ"
None of this answers the questions we want to have answered – but it tells us that God elected the family of Abraham as His people.
This next part – probably needs more work, but something to think about.
Israel is the elect – you can see it in Deuteronomy many times – now here is the question – are all those who are elect saved? Think about it!
The answer is – absolutely not. Plenty of Israel rejected Yahweh. And Paul is saying in Ephesians (and Romans) – that only those who are in Christ are saved. One can be elect and not saved – that can be confusing – and something to ponder.
?In Romans 9 – the Israelites become non-elect that the Gentiles can become saved in Christ
Here is what I think has been predestined – that in Christ, the Nation of Israel would be God's chosen people through whom the Messiah would come – and then God predestined that Gentiles would be able to come to Christ through the death, resurrection, and ascension of Jesus.