Feb 10 2019 - Luke 7 Faith - Moving Toward Jesus
10th February 2019
Lord, we need Your grace to flow in our lives today. There is nothing we can do to be worthy of Your love and forgiveness. That is all we stand on – help us to remember that – In Jesus name…
We have a group of people who meet downstairs – some can't get upstairs – some have children and it gives them a place to play – we have it down in the café -
Luke 7When Jesus had finished saying all this to the people who were listening, he entered Capernaum. 2 There a centurion's servant, whom his master valued highly, was sick and about to die. 3 The centurion heard of Jesus and sent some elders of the Jews to him, asking him to come and heal his servant. 4 When they came to Jesus, they pleaded earnestly with him, "This man deserves to have you do this, 5 because he loves our nation and has built our synagogue."
A centurion would have been in charge of 100 soldiers – a position that allowed him to gain status and wealth. He would have been called a 'God-fearer' – a Gentile who worshiped Yahweh. This type of person would not have all the privileges of a Jew – but he would have had money – and he built a synagogue. People who had money sometimes practiced patronage – using their money for the betterment of the community – like Rockefeller or Carnegie building great halls – Buffett and Gates with their foundations.
Some did it for promotion – others did it out of love.
6 So Jesus went with them. He was not far from the house when the centurion sent friends to say to him: "Lord, don't trouble yourself, for I do not deserve to have you come under my roof. 7 That is why I did not even consider myself worthy to come to you.
The centurion was a lot like Peter a couple weeks ago – when they caught all the fish and Peter said – go away from me, a sinful man.
The elders said he deserved it – and he replied that he didn't deserve it. A requirement for great faith is humility. You cannot have faith without a true understanding of our condition before God. Peter and the centurion recognized their unworthiness. Peter went from calling Him Master to Lord.
There is something divine going on here – way beyond humanity. The next verse tells us what he thought about Jesus
. But say the word, and my servant will be healed. 8 For I myself am a man under authority, with soldiers under me. I tell this one, 'Go,' and he goes; and that one, 'Come,' and he comes. I say to my servant, 'Do this,' and he does it."
He is a commander – he can tell a soldier what to do and he does it. He heard about Jesus so he sent these people to go to Jesus. What had he heard? That Jesus was healing diseases. I have authority over soldiers – and Jesus has authority over disease. I can order a soldier – and I have authority over him.
9 When Jesus heard this, he was amazed at him, and turning to the crowd following him, he said, "I tell you, I have not found such great faith even in Israel." 10 Then the men who had been sent returned to the house and found the servant well.
Jesus was amazed. There are numerous times where this word is used. People who are amazed at Jesus' teaching. It is only used twice by Jesus – once here, in a positive way – and the other time, in Nazareth, (four weeks ago), in a negative way – amazed at their unbelief.
Jesus is amazed by the centurion's faith. Nazareth is Jesus' home town – the people who were closest to Jesus – and they were the farthest from Him in faith. Then we have this person who is the farthest away from Jesus, socially, a Roman Gentile soldier – yet he is the closest to Jesus in faith.
First – Faith has everything to do with understanding who God is and very little to do with our personal feelings of faith.
We need to ask, WHO is our faith in, not how much faith can I stir up?
Jesus has authority over disease – that is all the centurion needed to know.
Peter knew He had authority over creation – making fish jump into nets and He could walk on water
Third – faith is not simply about your current spiritual position and place.
We think – if I got to a place where I could have enough faith – it is more about the direction you are heading in. If you are heading toward Jesus, you are moving toward faith.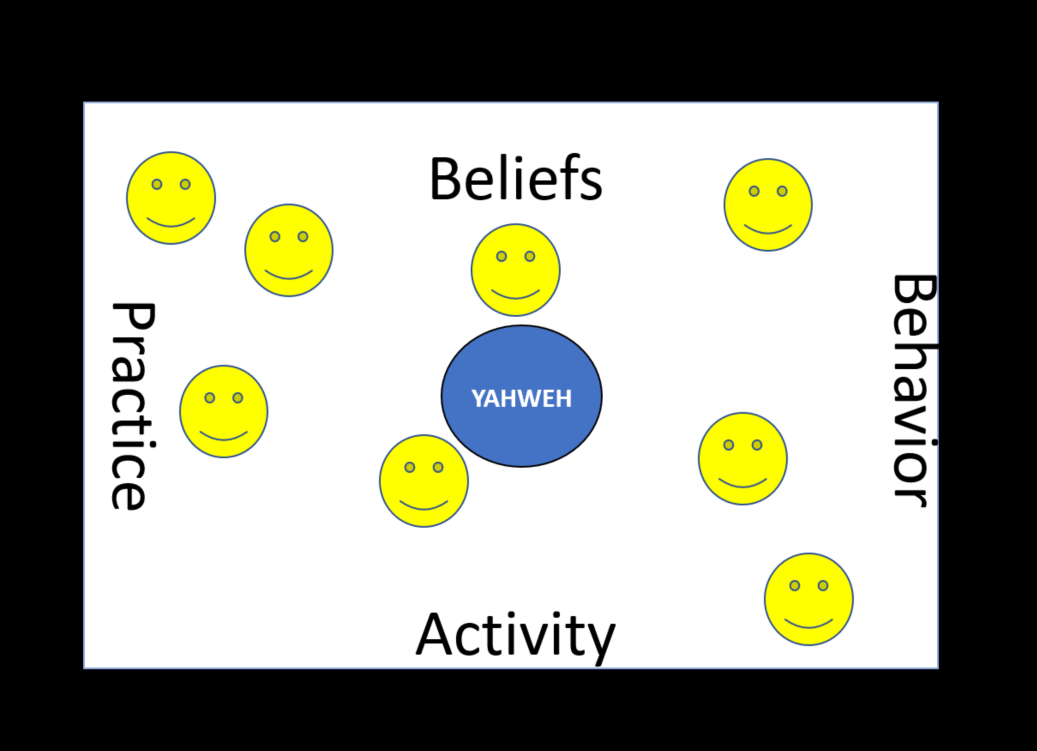 This would be a faith community – how the Jews were in Jesus' day and how many churches are today.
These black bars are the boundaries of the community. There are smiling faces, because that's what churches have, right? . In order to be in this community, you must meet the requirements of Belief, Behavior, Activity, and Practice. It is important to have beliefs, behavior, and activities and practices. This is the community of the Pharisees.
This is the second community – the community that Jesus was trying to create: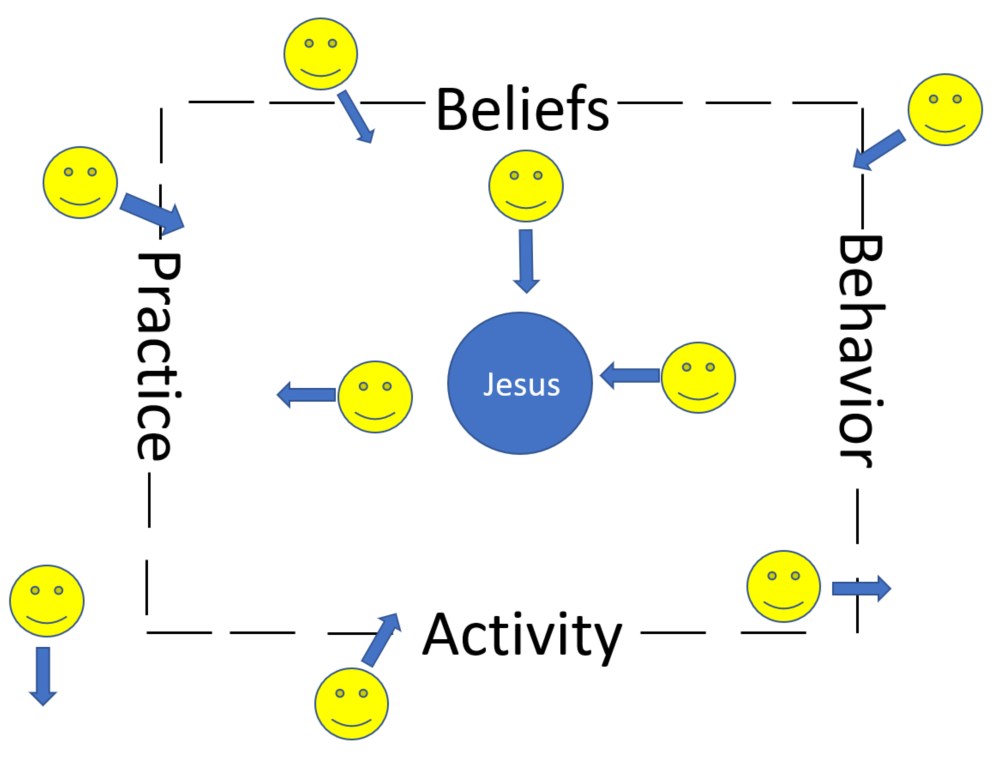 In this community, there are smiley faced church goers (because that's what churches have, right?) – but the barrier is a dotted line. Although there are certain beliefs that are important – there will always be a level of diversity in a true community. As far as beliefs and behavior and activities and practices – there will be diversity. That is why there are so many denominations! Because there is diversity – and of course, we are in the right one! (People think that way, don't they? Well, others do – not us!)
What is most important in this diagram are the arrows – moving in the direction of Jesus – This goes back to the centurion. He was the farthest, but was moving toward Jesus.
You have this one out here – he comes to Jesus – He is excited - sins are forgiven – but boy, does he have some behaviors that just aren't there yet – and they may not be there for a while! But in this, he is in the community and moving toward Jesus. You could do the same with each of these.
Beliefs – believes in Jesus – but has some other weird beliefs that have nothing to do with the Bible, but he has put faith in Jesus and is moving toward Jesus! That's all that matters. Then we have this guy here – I should have put a frowny face on him – he is outside the wall, and is going in the wrong direction – like the people who were really close, but not in the community. Like the people of Nazareth – they were really close – but they did not get it and were not in the community
Church should look like this – if we get to the point where we look like the other one, the church is in the wrong place. What matters is that we are moving toward Jesus – that is what God is looking for – people moving toward Him. Whatebver point they are at now is not as important as moving toward Jesus.
As we go toward Easter, I will talk about he stories of people – and after Easter, to look at the parables and teachings of Jesus.
Luke 7:
36 When one of the Pharisees invited Jesus to have dinner with him, he went to the Pharisee's house and reclined at the table.
There are 7 banquets (dinner parties) in the Gospel of Luke – 7 – the perfect number – and that is really important - and the most important is the Last Supper.
Also, this is the 7th time that Jesus interacts with a Pharisee. The first six, they are antagonistic.
This one invites him to dinner – and it appears that he is being friendly.
37 A woman in that town who lived a sinful life learned that Jesus was eating at the Pharisee's house, so she came there with an alabaster jar of perfume.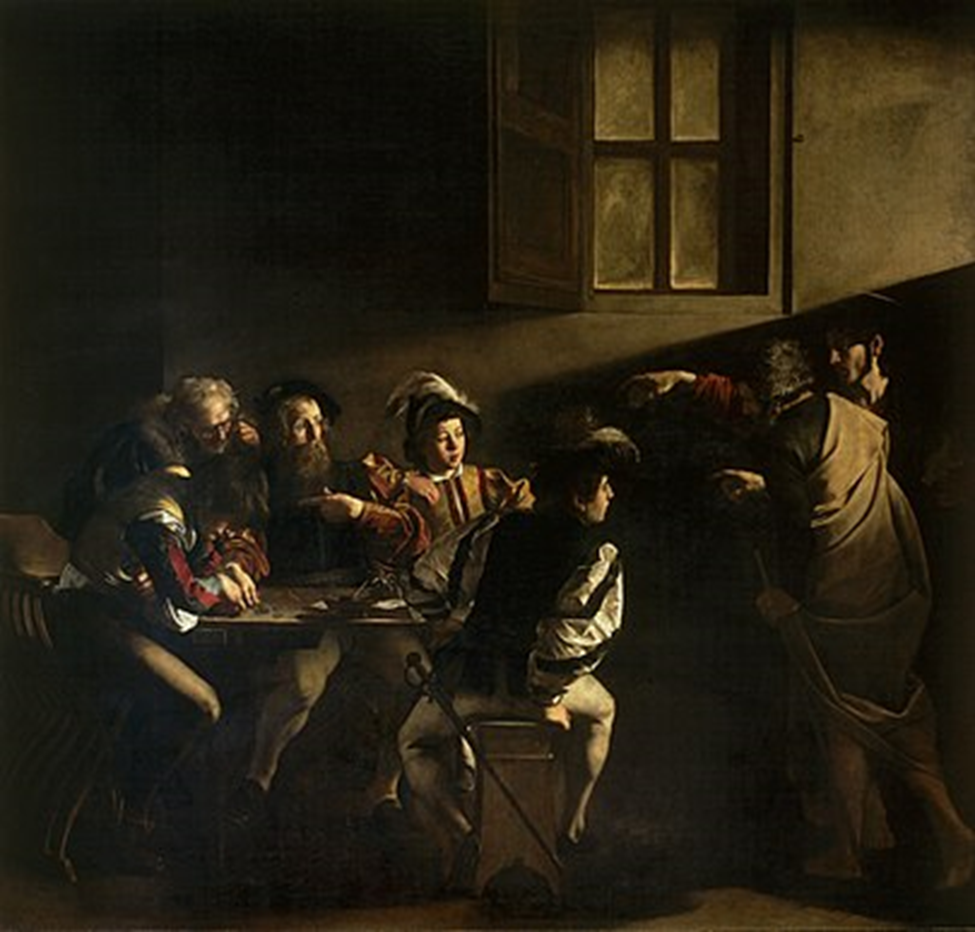 Here is a typical house in Israel – when the kids got married, they didn't move away – they just added on – and they had a courtyard in the middle – where they would have the banquet or dinner – and they would leave the doors open, and people would stand along the outer walls – and because they didn't have refrigeration – people would wait around for leftovers. The woman, being there, was not the issue. But she was referred to as a sinner – (an immoral woman) – the word sinner doesn't necessarily mean that – she has perfume – which would have been a tool of the trade – which leads some to believe she was a prostitute.
38 As she stood behind him at his feet weeping, she began to wet his feet with her tears. Then she wiped them with her hair, kissed them and poured perfume on them.
This was considered scandalous. Shameful to many.
The Pharisee who invited him begins to show his colors:
39 When the Pharisee who had invited him saw this, he said to himself, "If this man were a prophet, he would know who is touching him and what kind of woman she is--that she is a sinner."
Luke reveals the motive.
Where did we hear that before (If you are the son of God… if you are a prophet – in the wilderness) – the Pharisee invited Jesus to test him!
The man is scrutinizing and judging Jesus. And the man concludes that Jesus has failed the test.
The woman doing this is taking a huge risk.
Everyone knew their space and place. You didn't enter spaces that didn't belong to you! In Luke's gospel, Jesus welcomes the women into spaces where they would not have traditionally been welcome. Think of Rosa Parks – that is what this woman is doing.
There would have been a gasp – you don't mess around with Jim.
He thinks to himself – and then:
40 Jesus answered him, (did he think out loud?) "Simon, I have something to tell you." "Tell me, teacher," he said. (This shows that Jesus knows exactly who the woman is – but more importantly – he knows exactly who the Pharisee is!) 41 "Two people owed money to a certain moneylender. One owed him five hundred denarii, and the other fifty. 42 Neither of them had the money to pay him back, so he forgave the debts of both. Now which of them will love him more?" 43 Simon replied, "I suppose the one who had the bigger debt forgiven." "You have judged correctly," Jesus said.
50 denarii was 1-2 month salary. 500 was 1-2 years.
The problem was the woman judged the woman and Jesus incorrectly.
44 Then he turned toward the woman and said to Simon, "Do you see this woman?
(What Simon saw was a category – a sinner – we see categories – like right-wing wackos or left-wing liberals or whatever – we need to be careful to not categorize people – it is awful). Then Jesus begins to list the Pharisee's faux pas -
I came into your house. You did not give me any water for my feet, but she wet my feet with her tears and wiped them with her hair. 45 You did not give me a kiss, but this woman, from the time I entered, has not stopped kissing my feet. 46 You did not put oil on my head, but she has poured perfume on my feet.
The things he should have done – it shows it was not a friendly invitation. The crowd might have recognized – I wonder if this woman saw all of that – and no one else stepped up – it is time for someone to step up and do what is right.
Whenever I think of this woman – I think of Eowyn in the Lord of the Rings– no man can kill me – I am no man!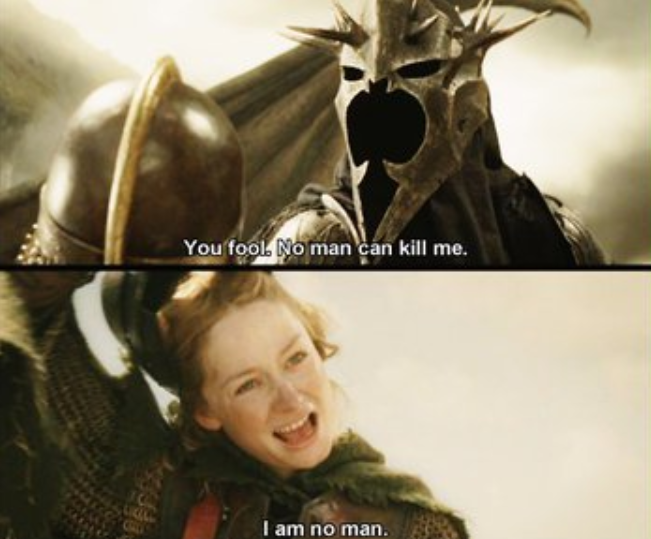 Simon and the woman were miles apart on the social status – Jesus not only equalizes it, but goes beyond.
47 Therefore, I tell you, her many sins have been forgiven--as her great love has shown. But whoever has been forgiven little loves little." 48 Then Jesus said to her, "Your sins are forgiven." 49 The other guests began to say among themselves, "Who is this who even forgives sins?" 50 Jesus said to the woman, "Your faith has saved you; go in peace."
We all go through times where we feel like our love is little – maybe we aren't as righteous as we ought to be – not loving God as we ought – and our tendency is to try to kick it up a notch – behave better, do spiritual disciplines – but if that is our first thing – we will fail. Our love will decrease. The first thing we must do is to recognize how much we have been forgiven – and it is from that that our love increases.
Here is a question – do you view yourself as a 50 denarii sinner or a 500 denarii sinner. Just know you
love little if you view yourself as a 50 denarii sinner. The only way to love much is to know you are forgiven much
As far as the east is from the west, So far has He removed our transgressions from us. (Psa 103:12 NAS)
"Come now, and let us reason together," Says the LORD, "Though your sins are as scarlet, They will be as white as snow; Though they are red like crimson, They will be like wool. (Isa 1:18 NAU)
How much more will the blood of Christ, who through the eternal Spirit offered Himself without blemish to God, cleanse your conscience from dead works to serve the living God? (Heb 9:14 NAU)