Oct 21 2018 Living the Way of Wisdom - Developing a Culture of Wisdom
21st October 2018
Pastor Appreciation Lisa baked a cake for Mike - Dr. Who? Dr. Marette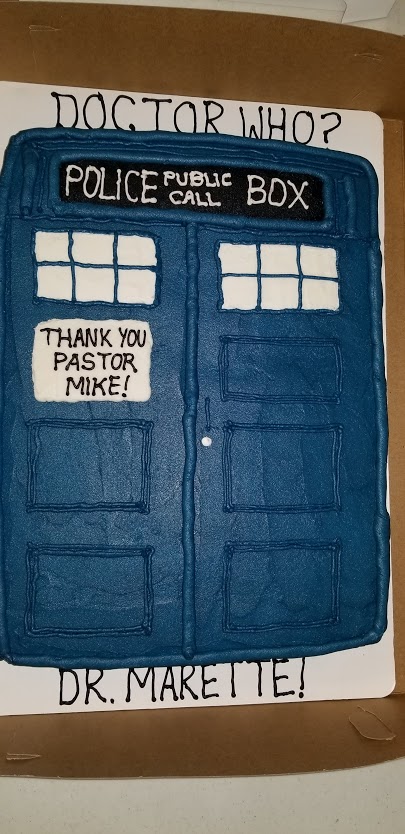 Living the Way of Wisdom according to the New Testament – Developing a Culture of Wisdom
As we draw closer to the end of the year and this year of developing wisdom – may we continue to apply what we are learning – taking the things that You teach us to make them real in our lives. Speak into our hearts this morning – help us to know the love of God that has been poured out in our lives.
Paul, in his letter to the Ephesians - "I keep asking that the God of our Lord Jesus Christ, the glorious Father, may give you the Spirit of wisdom and revelation, so that you may know him better. (Eph 1:17 TNIV)
He is asking that they would have a Spirit of wisdom – and when he says the word "YOU" – it is most often plural and not singular. We tend to take these things, because of our cultural context, to individualize everything. And yes, this has personal application – but to understand it most clearly, we must understand that he is talking to the entire church as a community. There is a communal aspect to what Paul is saying – so it is not just me as an individual becoming wise and living the way of wisdom – but what is most important is that the community – the church – learn to walk in wisdom. You cannot live the way of wisdom on your own. As a church – we want to be an entire church living the way of wisdom in front of the world. Imagine if the whole community of Christians in this country started living the way of wisdom?!
The word SPIRIT is capitalized – meaning it is probably referring to the Holy Spirit.
Isaiah 11:2 The Spirit of the Lord will rest on Him, The spirit of wisdom and understanding, The spirit of counsel and strength, The spirit of knowledge and the fear of the Lord.
Without the Spirit of God, we cannot live the way of wisdom. We must allow the Spirit to work in our church – in the entire community, in order to live the way of wisdom.
2 My goal is that their hearts may be encouraged, being knit together in love, to reach all the riches of full assurance of understanding and the knowledge of God's mystery, which is Christ, (Col 2:2 ESV)
1 Cor. 1:30 But by His doing you are in Christ Jesus, who became to us wisdom from God, and righteousness and sanctification, and redemption, 31 so that, just as it is written, "Let him who boasts, boast in the Lord."
True wisdom is found in Jesus Christ. It is ONLY found in Jesus Christ. People can have knowledge, intelligence, education, skill in all kinds of different areas… even when we go back to the wisdom of the Proverbs – there are all types of ways to be wise there and follow those without faith. But that tells us that without Christ, you might be wise in all those things, but without Christ, we cannot have eternal wisdom. To walk in the way of wisdom, we must center and focus our lives on Jesus Christ.
I have given this illustration before. Australia has enormous cattle ranches – and some are so large that it is impossible to fence them in. The cattle can wander through tens of thousands of acres. It is an arid area – so they dig wells which help to keep the cattle around.
The well is Christ. The tendency of the church is to build fences rather than to dig wells. We will always come back to the water once we know where the water is.
If our focus is on getting people fenced in – developing systematic ways of thinking about the Bible and theology, we will fail in living the way of wisdom. But if our focus is to direct people toward the well of Christ, and then to teach them to come back to that well, we will succeed in living the way of wisdom. But it all must focus on Christ.
We have a video – then we will continue on…
James – BibleProject guys.
I'm going to take 6 passages from James and how they tie to living a life of wisdom.
James 1:22 But don't just listen to God's word. You must do what it says. Otherwise, you are only fooling yourselves.
There are so many ways to hear God's word – Sermons on Sundays, Podcasts, Christian Radio, etc… - but the real question – are we doing what it says? Are we doing anything about what we are hearing?
23 For if you listen to the word and don't obey, it is like glancing at your face in a mirror. 24 You see yourself, walk away, and forget what you look like.
For them – their mirrors were different – for us, it is kind of hard to forget what we look like! But for them – it was maybe polished bronze – we might look to see if we have something in our teeth… and it points out flaws.
We need to correct the flaws that it reveals. We need to be willing to correct the flaws!
25 But if you look carefully into the perfect law that sets you free, and if you do what it says and don't forget what you heard, then God will bless you for doing it. James 1:22
When we hear, we need to be careful to do what it says. True wisdom is action and obedience oriented. It is valuable to study – but not until you put it into action.
We need to take what we are hearing and bring it into the public arena. The wisdom God gives is not just a private thing, but is meant to be given out – taken out into our public lives.
If we struggle taking things into the world, maybe we should spend less time in study, and more time acting – but it is best to do both! If you have knowledge, but don't apply it, you are deceiving yourself. We don't want to deceive ourselves. That is a real problem. There are folks who have plenty of knowledge about the Bible but don't apply it – and it is foolishness.
Jesus says:
24 "Anyone who listens to my teaching and follows it is wise, like a person who builds a house on solid rock. 25 Though the rain comes in torrents and the floodwaters rise and the winds beat against that house, it won't collapse because it is built on bedrock. 26 But anyone who hears my teaching and ignores it is foolish, like a person who builds a house on sand. 27 When the rains and floods come and the winds beat against that house, it will collapse with a mighty crash." (Matthew 7:24)
Living the way of wisdom is a long walk in the same direction, one author said.
It is a walk of faith and obedience over time. Of course, we will mess up as we go – stumble, trip, get off the path, but wisdom comes when we keep getting back on the path and moving forward.
Developing a culture of wisdom –
Matthew 11:19
"The Son of Man came eating and drinking, and they say, 'Behold, a gluttonous man and a drunkard, a friend of tax collectors and sinners!' Yet wisdom is vindicated by her deeds." (Mat 11:19 NAU)
Wisdom – proof – fruit, actions, results. Do we know wisdom by how many verses someone can quote? No, it is what they do – how they act!
Results and outcomes – one caution – in our culture, results are temporarily oriented – what have you done for me lately? The results in the word are relationally oriented and eternal results. The fruit of our life must zero in on and influence our relationships. If we are growing as Christians, we will be getting better at our relationships – having a positive effect on our relationships. We cannot separate them. Like the BibleProject guys talking about justice and love – they must go hand in hand. In our world, it is easy to forget the relational aspect of justice and focus on personal rightness. There is nothing wrong with personal rightness, but if it is not connected and never works out in relationship to others and greater love for others, it is of no value. Think Pharisees. They had personal rightness and morality that never changed their love for the people around them. That is their story.
If you are over the age of 45 – give or take 10 years – you may have a tendency to emphasize personal rightness. If you are under the age of 35 – you might tend to de-emphasize personal holiness.
For those of us older – we pendulum swung toward personal rightness – and then the pendulum swings the other way.
You might think the younger folk have major problems – but whose fault is it? Ours – because the pendulum is just swinging back.
I don't think the Church has a wisdom culture. We are in a knowledge and information culture. And there is a huge difference. Plenty of people have biblical knowledge and information who lack wisdom – and we see it all of the time – they tend to be on the news.
You know how you can tell someone? Look at all the arguing that goes on. True wisdom is peaceable – gentle – reasonable – full of mercy – and just ask if what you are hearing meets those criteria?
There is a second type of culture and I will close off briefly – Scot McKnight was talking about how the church has moved from a wisdom culture to a youth culture. Here is what he was saying – years and years ago – there became this desire to begin separating – maybe out of a good heart – maybe because youth were not being reached – and so they began separating the youth from the older church – and there is nothing wrong with having a youth group – but as a philosophy – the church should be intergenerational.
Wisdom is with aged men, With long life is understanding. (Job 12:12 NAU)
"Stand up in the presence of the elderly, and show respect for the aged. Fear your God. I am the LORD. (Lev 19:32 NLT)
Look how he connects those two verses together!
A gray head is a crown of glory; It is found in the way of righteousness. (Pro 16:31 NAU)
Some don't go gray – that is not the point.
Better was a poor and wise youth than an old and foolish king who no longer knew how to take advice. (Ecc 4:13 ESV)
Plenty of old people don't grow wiser, they grow stubborner!
20 years ago Dennis and I talked about this – the church needs the zeal and enthusiasm of the young and the wisdom and maturity of the older. And we each need the other.
In our world, it is the young, the hip, and the cool who get the attention – and that is happening in the church. We need to understand the balance between what we talked about 20 years ago.
1 Tim. 4:12 – Let no one look down on Your youthfulness – but rather in speech, conduct, love, faith and purity, show yourself an example of those who believe.
Timothy, you are young – and the church needs to make room for you – and we need to make room for the young – give them a seat at the table – make sure their voices are heard. But what is Timothy actually doing? Leading the church – don't let the look down on your youth – follow my instruction –
We have this younger person, Timothy – and Paul, saying, my son – and Timothy is completely under the direction of the aged, wise Paul. He understands his need. Let's pray…