Jul 23 2017 The Gospel - Pt 5 - Making the Gospel part of Your Everyday Life - by Jeff and Melissa Yackley
28th July 2017
Relational Evangelism (PP)
Jeff: Good morning! We've been looking at different facets of the Gospel over the past several weeks – and Pastor Mike has asked Melissa and me to talk about our experiences in integrating the gospel into our daily lives.
We belong to two different small groups – and as timing would have it, both of them met this week for the first time in several weeks. As we think about people integrating the gospel into their daily lives, we were really encouraged to hear stories from both groups about people sharing with co-workers and neighbors and other parents at sporting events – we can really integrate the gospel message into any relationship we have – and we are encouraged how others are already doing this – so this might be more of an, 'excel still more' message, encouraging you to continue doing what you're already doing. But if this is a foreign concept to you, we hope to give you some insight into how it can become a regular part of your daily life.
On Tuesday, I was out for my lunchtime jog when I ran into a friend of mine who recently lost his job. We were heading in opposite directions and I had a decision to make – should I turn around and walk with him or should I get my full jog in? I consciously told myself – people are more important than exercise – so I made the decision to walk around the park with him. The last time we walked together was the first time I had discovered that he was a Christian for sure – even though last year he had asked me to pray for his daughter who was going through breast cancer treatment.
We walked a mile loop around the pond and he shared what he had been going through in losing his job – and then I started jogging again and as I was praying for him, I felt led to go back and actually pray with him. So, I did.
Afterward, I thought to myself – how does this fit in with a gospel message? And I realized – we are not called to only lead people to Christ – we are called to make disciples – and that involves helping them to grow even after they are followers of Christ.
In this message, we'll talk about helping people move a step forward on their faith journey – and if zero is the point at which someone comes to Christ – we may be moving them from a negative 20 to -19 – or the person may be more mature than I am – sitting here at a 15, I may help him move from 49 to 50 – but the goal is to be assisting people forward in their faith journey.
Let's pray:
Heavenly Father, I thank You first and foremost for our salvation. Give us a deeper sense of appreciation for what You have done and help us to help others forward in their faith journey. Help us to be willing to share how You are working in our lives and to help others to know You more. We pray in Jesus' Name.
Melissa: Disclaimer—As Jeff said, this is just our experience and our suggestions—everyone has their own style of interacting with people and their own opportunities, so please take what helps and leave whatever doesn't! I know that you are already doing a great job of loving people, so we just hope to encourage you to keep up the good work and be open to new ways God might be at work in your relationships.
1. Gratitude and Appreciation for our Salvation (PP)
As I have been thinking about the gospel—really in the past several months—I have been filled with gratitude for my own salvation in a new way, and I think that is a great starting point for thinking about sharing the gospel with others. Taking time to contemplate the sacrifice Jesus made for me—leaving the perfection of heaven, coming to this earth as a man, going through all the stuff we humans have to deal with, serving and giving to and loving people who were difficult and often ungrateful, and then being willing to give up His very life in such a horrific way—all just because He loves ME and wanted to have a relationship with ME—unworthy and sinful and weak and needy though I am! That is something to be deeply grateful for and worth taking the time every day to focus on—maybe one aspect at a time depending on what strikes your heart that day. Whenever I get into the car or take a walk by myself, I spend the first few minutes of my drive or walk thanking God for my salvation and praying about some aspect of it that I'm especially grateful for that day.
Jeff: Some might call this meditating on the gospel—thinking about those 7 aspects (PP) that Mike has mentioned: That Jesus has existed in eternity, He became flesh and lived on earth, He died for our sins, and was buried. He was raised from the dead and exalted as Lord of all creation and will judge the world one day.
Melissa: Instead of viewing the gospel as kind of like a two-dimensional triangle (PP)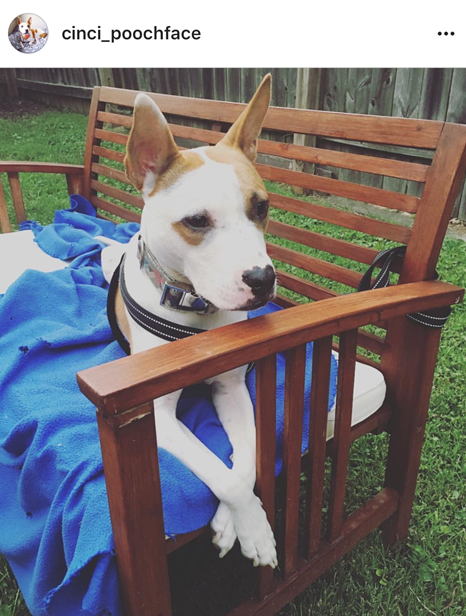 Jesus loves you, and died for you, and you need to receive His forgiveness, hold it up and look at all the facets (PP) of the gospel and examine and appreciate each one.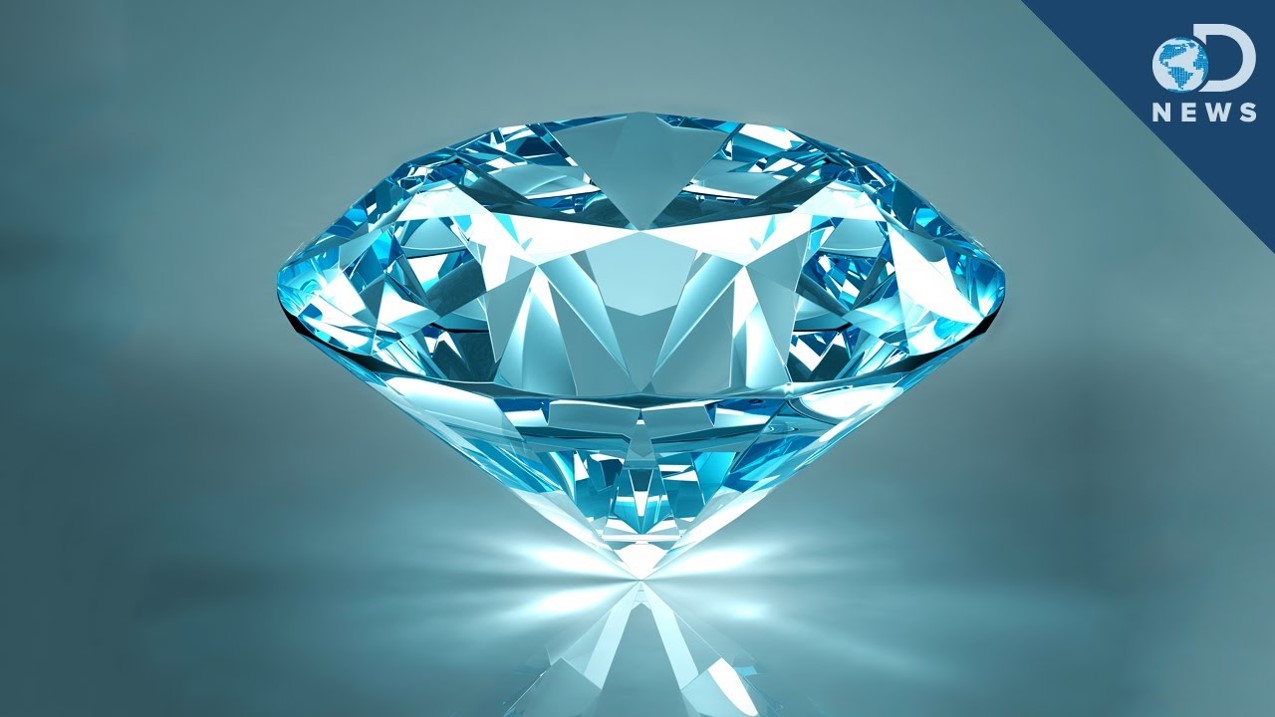 As I was reading Luke recently, I was reminded of this principle in the story of the ten lepers who were healed by Jesus.
Jeff:
Luke 17: 11- 19 (PP)
While He was on the way to Jerusalem, He was passing between Samaria and Galilee. As He entered a village, ten leprous men who stood at a distance met Him; and they raised their voices, saying, "Jesus, Master, have mercy on us!" When He saw them, He said to them, "Go and show yourselves to the priests." And as they were going, they were cleansed. Now one of them, when he saw that he had been healed, turned back, glorifying God with a loud voice, and he fell on his face at His feet, giving thanks to Him. And he was a Samaritan. Then Jesus answered and said, "Were there not ten cleansed? But the nine—where are they? Was no one found who returned to give glory to God, except this foreigner?" And He said to him, "Stand up and go; your faith has made you well."
Melissa: I hope that we will be like that one who turned back and that we will remember to give glory to God by giving thanks that Jesus has cleansed us and healed us from a fate much worse than leprosy. We really do have so much to be thankful for, and this is a fantastic motivation to tell others about this gift we've been given!
2. People are Eternally Significant and Worth Investing In (PP)
In reading the gospels, I am amazed by how Jesus was endlessly focused on people. He would be traveling from one place to another and "interrupted" constantly by people wanting His time and attention. In another passage in Luke it says, "Jesus stopped…" That kind of jumped out at me recently, and I thought about how He didn't just keep pushing forward to reach His destination. He stopped when someone called out to Him, and He took time to listen, heal, help, answer questions, and interact with the people around Him. He was much more focused on people than anything else on His agenda. This is a challenge for me sometimes, but Jesus' example shows us that needs to be our mindset too—no matter where we are or what we're doing—to focus on the people around us and look for opportunities to meet needs.
Bill Hybels in Just Walk Across the Room, challenges us to "leave what's comfortable for that which is eternally significant." I need that challenge because I'm an introvert who is perfectly happy to stay in my comfortable group of relationships, but these two things—gratitude for my own salvation and believing that people are eternally significant—can motivate me to step outside my comfort zone and enter what Hybels calls "the Zone of the Unknown" (PP) to engage with people God brings across my path.
Jeff: So, what does that look like in real life?
We were thinking back to early in our marriage when we realized that we didn't really know many people who weren't already Christians. So, we prayed that God would help us meet and become friends with more people we could get to know and tell about Christ. That made us more aware of the people around us and helped us look for those opportunities.
One example of that was when we went to our childbirth class when Melissa was pregnant with Kaite. We could have just gone in, learned what we needed to know, and left without interacting much with others. But we decided to be intentional about getting to know other couples who seemed open to being friends. There was one couple we talked to (John and Judy) who was friendly and fun, and we developed a relationship with them over the weeks. We kept in touch with them after our babies were born and got together regularly. At one point, Melissa and some moms had a play-group and Judy brought her friend, Mary. Another opportunity! It ended up that we became even better friends with Mary and her husband, Steve, and that a real friendship developed over time as we spent time together over meals and letting our kids play together. Steve was an engineer, and I remember going to a trade show with him – and on the way home, I asked him about his spiritual background and where he was on his spiritual journey. Then he asked about mine – and it led to an opportunity to share the gospel, and they eventually attended Grace Summit too!
Melissa: So in a sense, it looks a lot like…
3. Developing Friendships (PP)
It all starts with the willingness to engage with the people around you, and as Hybels says, "take a risk and walk across the room (or the street or yard or soccer field or office) to introduce yourself and start a conversation that reflects the curiosity, kindness, and love of Christ."
In doing this, it can be easy to be surprised or even offended by people's behavior or words if they don't act like people you are used to being around, but Jesus wasn't offended—He stepped closer to befriend people and went out of His way to draw near to them. And I think if we will be curious about people and really desire to get to know and understand them, we'll find it extremely encouraging to be part of the process of them drawing closer to Christ!
4. Play the Role You Are Intended to Play (PP)
In this process, it may feel like there is some pressure to share the gospel with people early on in the relationship, or maybe you have felt kind of dishonest about befriending someone "just so you can share the gospel with them." And to that we would say that it's way more important to stay aware of the Holy Spirit's leading in your relationship and trust Him to direct you in what to say and do when rather than feeling pressure to accomplish some agenda. The goal is a genuine friendship where you are in a position to love and meet needs and trust that God will help you know how and when to do that.
Hybels puts it this way (PP), "The highest value in personal evangelism is staying attuned to and cooperative with the Holy Spirit…. Staying attuned to the Spirit means I have a heightened awareness of the things going on around me." This happens most for me when I am praying for people in quiet moments like washing the dishes, or driving, or walking, or cleaning. Then when I go out into the world, I'm more aware of the opportunities around me. Often, I will catch something someone says that gives me a clue about a need in their life that I can meet, or I will be more likely to ask a follow-up question about a comment someone casually throws out there. I'm also more likely to see my role as an encourager and be patient with a grumpy co-worker or to offer to serve at work rather than be irritated about having to do something no one else wants to. These are all simple ways to be available if the Holy Spirit is at work in someone's life and He wants you to be involved. Henry Blackaby called this "looking to see where God is working and joining Him in that work." God is already at work in the lives of the people around us—we just need to be aware when God shows us to join Him in what He's already doing. Takes the pressure off!
And just a side note, this means that we do need to have quiet moments in our lives. The Holy Spirit does not usually talk over our phone, TV, laptop, radio. So, I would challenge you to unplug (PP) at least for some time every day to have a quiet mind and heart to be able to hear from God. I would agree with this sign: Pay attention while walking. Your Facebook status update can wait. You have one chance to engage with the people around you as you walk through this day, and so it's important to be present and available mentally to do that. It's easier to just zone out on my phone in down time, but it's eternally significant to engage with people around me.
Another important point in playing the role we are intended to play is to realize that not every relationship or interaction will lead to a spiritual conversation, and that is okay.
Jeff: In I Corinthians 3: 5-9 (PP), Paul explains it this way:
What then is Apollos? And what is Paul? Servants through whom you believed, even as the Lord gave opportunity to each one. I planted, Apollos watered, but God was causing the growth. So then neither the one who plants nor the one who waters is anything, but God who causes the growth. Now he who plants and he who waters are one; but each will receive his own reward according to his own labor. For we are God's fellow workers; you are God's field, God's building.
PP—Soil, Seeds, Watering
Sometimes our role is to help break up really hard soil in a person's heart—like I said earlier, maybe they're at a negative twenty in spiritual interest, and our role is to help them move to a negative 19 just by being friendly and loving them. Is that progress? Yes!
Someone else may come along and take the next step and plant a seed. Or we might get to put some water on a seed that was planted earlier in a person's life. As we each faithfully play the role we are intended to play, we will find that each role is a valid one and eternally significant in this person's life.
PP—Seedling: And you never know, you may get to be the one to see the seed take root, sprout, and bear fruit! And that is the greatest joy when we get to participate with God in helping someone choose Jesus as their Savior and Lord, and then to help them continue to grow in that relationship becoming a disciple of Jesus. In the end, we're all on the same team, working together with God who is the real One who causes the growth and change to happen—we get to participate in this great adventure and mystery of it all! What a privilege!
Melissa:
5. Discover Stories (PP)
As you are developing relationships with people—whether it's a long-term friendship or a casual chat with someone, one thing that is helpful in discerning needs in a person's life is to discover their stories. We all have them, and they shape who we are, why we do what we do, and why we believe what we believe.
Jesus did this all the time—He discovered people's stories quickly and got right to the heart of things in their lives.
This will mean that we may hear some "messy" stories (PP) because people have "messy" lives—we all do, and that will require that we show compassion and be radically inclusive of people who may be very different from us. We need to accept people just as they are now—because Jesus has accepted us just as we are, and He accepts them too. Does He just leave us as we are? No, and He can work in their lives to transform them just as He is working in our lives to transform us, but HE must be the One to do the work.
As we hear people's stories, it helps us to be more empathetic and to offer compassion instead of being annoyed by their behavior. If they are cynical and slow to trust, they may have a very good reason based on past experiences in their lives. And if we understand that, we can be patient in building bridges and breaking down walls to show that some people can be trusted to have their best interest at heart.
Very often, when we have demonstrated an interest in others' lives, they will ask questions about our lives too. That's a great opportunity to include how God has become real to us, how He has helped us—like Sue shared 2 weeks ago—if God is a big part of our lives, it will be natural for us to include Him in telling our story and in talking about how He is involved in our lives today.
An example I had this week of this was when Hannah and I went to get glasses. It was a bit of an ordeal and I ended up going back three days in row to get things adjusted and figured out. I was feeling frustrated and kind of irritated, and before I went in the last time, I prayed a lot in the car about who would be there to help me, that I would respond in kindness and patience, that whatever happened, I would be an example of someone who loves God and loves people more than just getting my glasses adjusted right.
When I went in, it was the same woman who had tried to help me before, and I thought, "Well, God, you must want me to try again with her, so here goes." I had to sit and wait while she was on the phone taking what seemed to me a personal call because she was talking about someone being in jail, and something about her family—so probably not about glasses! I was starting to feel that frustration and irritation again, but took a few deep breaths and chose to be patient instead. She came over and was very helpful, so all was going well when a co-worker came over to ask her about the phone call—she said it was a patient who had been a former detective who had heard news about "the case" and wanted to call and say how happy he was. That's when I realized that it was probably some kind of crime that had been committed against someone in her family, and they had caught the suspect—later I looked up her name, and she is the sister of the young man who had been shot in their family's pizza shop in Akron about a year and a half ago. Wow—how awful that must have been for her family, and how happy I was that I had been understanding and not irritated with her! It reminded me once again that everyone has a story, and if we get to know those stories, it will help us know how to help bring God into the relationship.
And just so you know, I didn't say anything to her about it or try to turn it into a spiritual conversation because she didn't really include me in it, and I didn't feel led to say anything, but I was willing and available, and that's all I could do in that situation.
Jeff:
6. Patient Endurance (PP)
And sometimes this takes a long time and patient endurance. We have some dear neighbors who we have known for around 15 years. They are older and from a different cultural and faith background, and it honestly seems like there is no way they would ever see a need to change their beliefs at this time in their lives. But, we have tried to patiently play the role we are meant to play—which right now seems to be helping them with mail, trash, and watering plants when they go out of town, walking with them and talking about life events. They know we love them, and they love us and our girls. But the opportunity to speak about the gospel has been limited. For now, but we are praying for them and staying available and looking for that nudge from the Holy Spirit or that evidence of God's working in their lives in a way that we can join Him. We have to trust that God loves them way more than we do, and that He is totally able to break through in their lives to show them His love just like He did in each of our lives. But it does take patience and not giving up in the meantime.
Recently we were out on a walk and the husband saw my "Intentional" bracelet – and he asked what it said and what it meant – I said it was a reminder for me to pray for him – "How can I pray for you?" I asked him. He said, "just mentioning my name is enough…"
On January 28, I posted a post on our neighborhood Facebook page:
Dear neighbors – as many of you are aware, my wife and/or I walk the neighborhood nearly every day. You may not be aware that I am one of the co-pastors of Grace Summit in Cuyahoga Falls. Recently, our lead pastor has been encouraging us to pray for our neighbors, and what better reminder than when we pass your house each day? If you have any specific prayer requests, feel free to post them here or send Melissa or me a private message.
One of the messages I received that day was from a younger gal who, when they had moved in a couple years ago, hosted an open house for the neighborhood where Melissa and I were intentional in going to the open house. In the message in January – she asked that I pray for her and her husband as they were trying to start a family. I saw her out a few months ago and let her know that I had prayed for her every day since she had asked – and that I was praying for their relationship as well, because I know that being unsuccessful at starting a family can be a stressor on a relationship. Yesterday, she was out again and we said Hi – and she came running down the driveway and said – I've been meaning to tell you guys – I'm eight weeks pregnant! How exciting!
We've made an effort to say hello and be friendly whenever we are out walking – and we have made many great friends throughout the years – and we also hope that people know that if they have a need or a question as they travel their spiritual journey – that we are here for them.
Melissa:
In the end, for me, it comes down to a couple of things that I am sometimes better and sometimes worse at focusing on:
PP—Cross 1. Do I really believe that God is worth knowing? That every person I meet would live a vastly better life if God's love, grace, and forgiveness were active in their lives? That the gospel really is good news for everyone? For me this comes from that time thinking about the different aspects of the gospel and reminding myself every day of what an amazing gift that is.
PP—People 2. Do I really believe that people are worth the risk of venturing out into the Zone of the Unknown for? That they are eternally significant and that when I stand before God, I'll be so glad that I invested in them more than in any other way I could spend my time on earth?
PP—Woman with hand out 3. Do I really believe that I can trust God's Spirit to guide me in my relationships and interactions to play a role in other's lives in a way that can make a difference for all eternity? That I don't have to feel pressure to accomplish some agenda or push my way into a spiritual conversation, but I can trust that as I love people and have a genuine relationship with them, God will show me when and how to include Him in the discussion.
When I can say an enthusiastic YES! To all of those questions, I am much more likely to put down my phone, turn off my music, and pray, listen, and then engage with whomever comes across my path with faith that God can use it in some way for the gospel.
Jeff: A few years ago, we got a support letter from Steve and Mary's daughter, Emily (PP) - she was heading to India with CRU – and so we supported her and I got on her newsletter list. For me – this was especially gratifying – and even though I only played a small role in her family's spiritual growth and someone else took it from there – here she was, willing to go to India for the gospel; it really brought home the "Paul planted, Apollos watered, but God causes the growth" verse. She is now on staff with CRU at Ohio University – and she included this picture in her most recent prayer letter (she's in the black tank top) – yes, that is our very own Ian Horstman in the picture—the one in the OHIO shirt in the middle!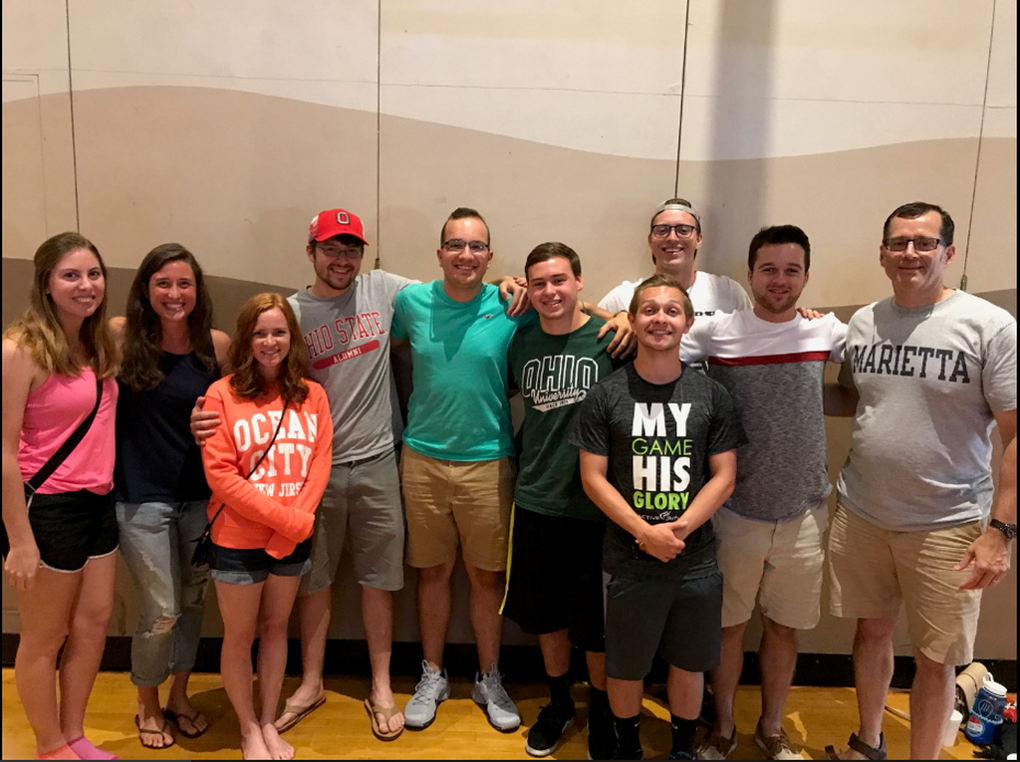 While the musicians come up – Melissa is going to give us a perspective from the flipside of long-term, relational evangelism. Yesterday we received a prayer letter from Mike K. (PP) – he was the pastor we were praying for a few years ago who had been wrongfully imprisoned in India. He demonstrates that you don't have to know someone for a long time to engage in a meaningful conversation of the gospel.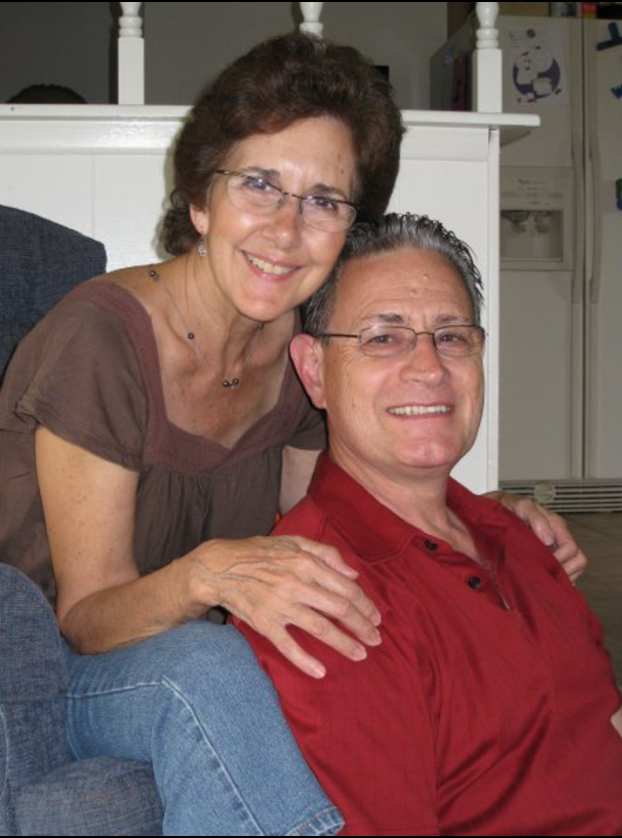 Melissa: From Mike K. who is in the US this summer traveling and talking about their ministry in Nepal:
"This week I was up in the state of Washington helping an old friend start a church. The small core team planned a picnic at Gig Harbor in hopes of sharing with folks on the boardwalk. I saw a Chinese man walking along toward the dock with his 11-year old granddaughter. With a friendly smile, I said, "Sir, can I tell you a story? You're going to love it!" He spoke only Mandarin, so I asked his granddaughter to translate, and she did. He became very excited when I told him about the love of Jesus Christ. He, his wife, and his granddaughter joined us for the picnic!
Then, I initiated with a 77-year old Jewish man, Gary, and his Filipino wife, Jenny. Again, my friendliness and interest in his colorful life opened his heart to my testimony. It looks like both of these families may join the discovery group starting there. These folks I just met are my friends now. They love me, and I love them!
Tuesday, at the Seattle airport as I waited for my ride, my friendly approach enabled me to share with an Ethiopian man, a Filipino man, and an American man, one by one.
On the plane to Seattle, I also discussed the trial of life and the gospel solution with Alma, a precious Mexican lady, for 2-3 hours, and she committed her life to following Christ.
This morning in a coffee shop, my friend,…and I got to talking with the two staff girls at the counter and told them how Jesus had power over death, disease, and demons. I told the Buddhist girl that Buddha said, "Don't worship me, I still haven't found the truth," but Jesus said, "I am the Truth." I told her Mahatma Gandhi said, "I would be a Christian if it weren't for the Christians," and she said she feels like that too. I admitted that many "Christians" are not Christian, but encouraged her not to throw the baby out with the bath water as I left to catch my plane.
There are two big lies the devil whispers into the ears of good-hearted believers that stifle their witness:
1. "Everyone around here has already heard the gospel."
2. "Nobody wants to listen to you share."
I promise you those are lies….To give a verbal witness requires some courage, and I used to be scared to death of it. My freshman class in high school voted me "the shyest kid in our school." And I was. I was so shy, I didn't show up to receive the prize! But the Holy Spirit and excellent mentors transformed me. Now, by God's grace, I dive into opportunities to share Christ. If you are shy about witnessing, let me advise you from my experience:
Always give a friendly greeting to EVERYONE you see….Then just get to talking—about anything and soon, you will find it easy and natural to guide the conversation toward spiritual things….
Use the "friendliness strategy"—I can build a bridge to a stranger in 3-5 minutes just by being friendly. So can you….Your big smile, kind countenance, gentle body language, and warm greeting will open most hearts to you. If you really care for people, they will see it and feel it. Once that happens, they'll receive your message.
The fields are white for harvest! The laborers are so very few! Will you re-engage and win people to Jesus? Just smile, open your mouth, and the words will come. The world needs you—yes, YOU!"